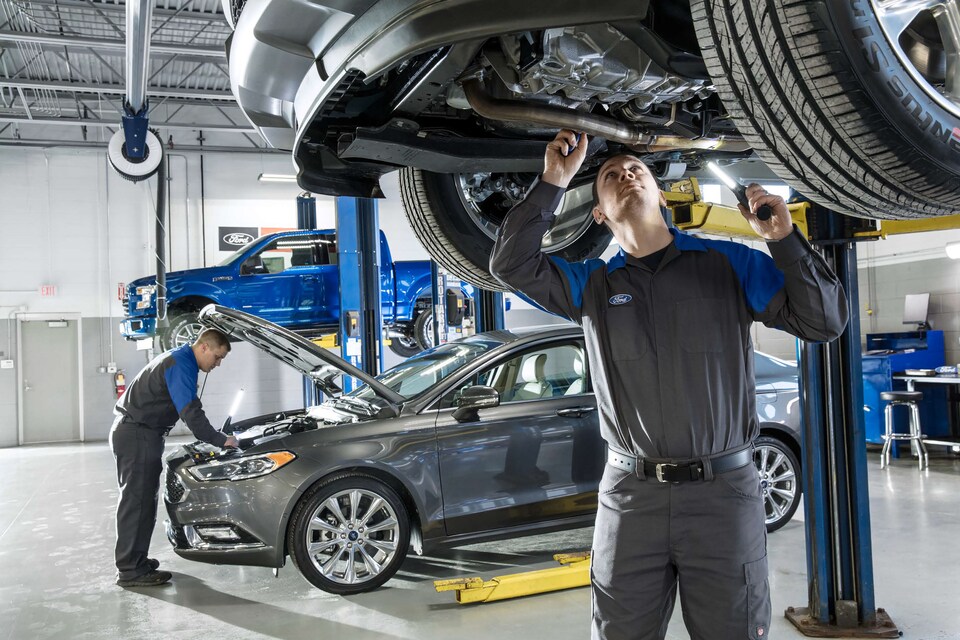 Ford service intervals: Consistent maintenance = consistent performance
While some people might consider regular factory-recommended maintenance to be an unnecessary extra expense, the reality is that it's the best way to keep your Ford running reliably. By following Ford service intervals and bringing your vehicle to us for routine service, you're helping your car operate more reliably. That means the relatively small investment you make in maintenance can save much more later on. Here are some details.
See Ford's recommended maintenance in your owner's manual
You can find a complete schedule of regular, Ford factory-recommended maintenance in the owner's manual that came with your vehicle. Of course, it's also available online or you can contact us and we'll be happy to provide you with a paper or digital version - or both. We want to see your Ford giving you all the trouble-free miles you expect from the outstanding Ford models we sell at Newins Bay Shore Ford in Bay Shore, NY.
7,500 - 10,000 Mile Service
The first and most fundamental maintenance recommended for a brand-new Ford is the time-honored regularly-scheduled motor oil and filter change. It's the single best maintenance service Ford owners in Brentwood and Farmingdale NY can have us do for them. Your engine is the centerpiece of your car and you can keep many vital components functioning well simply by changing the oil every 7,500 to 10,000 miles.
15,000-Mile Service
You generally don't need anything elaborate when you hit 15,000 miles but the recommended services are very important to keep your Ford running well. Here's what's on the list:
Oil and filter change
Check all fluid levels and top off
Rotate and balance tires
Check air filter and replace if needed
30,000-Mile Service
This is typically about the first time you might need to replace some wear-out items that eventually have to be replaced on just about any vehicle. We're talking about items like air filters, spark plugs and brake pads. Of course, if your Ford has to be driven hard or in extreme weather, some things might need replacing sooner. Here's the most common list for Ford owners around Melville and Bohemia NY at 30,000 miles:
Same services as at 15,000 miles
Check brake pads and replace if needed
Check suspension, shocks and struts
Check fuel filter and replace as needed
45,000-Mile Service
This is a point by which most Ford owners will begin replacing wear-out parts. The 45,000-mile mark is about when many Ford drivers will need to replace all four tires because the tread depth will probably be worn down to a minimum level. This is also a good time to replace filters, spark plugs and fluids like coolant, brake fluid and maybe even transmission fluid. Ask your Ford factory-trained technician for advice on that. Here's the short 45K list:
Many of the same services as the 30,000-Mile interval
Replace battery if needed
60,000-Mile Service
By this point, your brake pads, filters, fluids and spark plugs have all been changed out at least once and might be getting near the time for a second replacement. One of our experienced technicians will check all the common wear-out items. He will also be checking major components like your drivetrain and steering system to make sure they don't develop issues that could lead to significant repairs. Maintenance beyond the usual basics:
Inspect brake rotors and replace if needed
Check for wear on belts and hoses and replace if needed
Hopefully this is just the beginning of many well-maintained miles
Check with a service advisor at our trusted on-site service center to find out more about Ford service intervals and get your own personal long-term maintenance schedule. Let's form a partnership to take great care of your Ford so your Ford can take great care of you at Newins Bay Short Ford in Bay Shore, NY.