Genuine Ford Parts Available at Newins Bay Shore Ford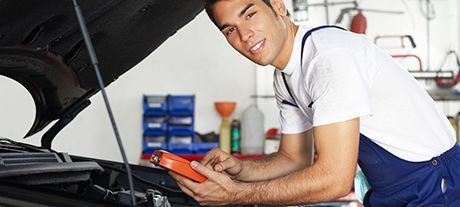 We at Newins Bay Shore Ford are proud to serve the surrounding area since 1938 with our breathtaking vehicles and top notch service. What has kept us going for so long is the quality and reliability of the vehicles that we provide. The genuine Ford parts available at Newins Bay Shore Ford has certainly attributed to that success. All of our trustworthy parts can be purchased from our parts department, our knowledgeable staff is here to answer any and all questions that you may have about your vehicle and what makes it tick!
Ford has always been a leading innovator in quality, durability, and an honest, trustworthy build. Whether something under the hood needs to be replaced, or you need to fix a loose knob on the inside of your door, we are confident we can get your vehicle back exactly where it needs to be. Our dealership pushes our large parts inventory to the forefront, so your car will run to its full potential. We also offer constantly-rotating specials on our parts, so be sure to check our website regularly to see what new deals we have for our genuine Ford parts available at Newins Bay Shore Ford.
Take a look at our parts department on our website and you will be provided the option to order your parts, and talk to one of our techs for more information about the Ford products we have to offer. You can also fill out our Ask a Tech form, and they will answer your questions concerning parts and maintenance. If you are ahead of the game and already know exactly what you need, you can order the part for yourself on our website. Once you have completed that, you can stop in and we'd be glad to have one of our technicians get your car back running and on the road again! By choosing our parts, you get the peace of mind of reliability backed by the Ford brand.
Of course, if you want you can always come in and talk to our expert staff at Newins Bay Shore Ford in the parts department to get all of your questions answered! We have flexible hours Monday through Saturday from the morning into the afternoon so you can visit at any time and we will address all of your concerns. We are located at 219 West Main St. in Bay Shore, NY, so stop in today to check out our genuine Ford parts available at Newins Bay Shore Ford!
Sales PPC Hours
888-401-8744
| | |
| --- | --- |
| Monday | 9:00 am - 9:00 pm |
| Tuesday | 9:00 am - 9:00 pm |
| Wednesday | 9:00 am - 9:00 pm |
| Thursday | 9:00 am - 9:00 pm |
| Friday | 9:00 am - 6:00 pm |
| Saturday | 9:00 am - 6:00 pm |
| Sunday | 11:00 am - 5:00 pm |
Sales Hours
631.665.1300
| | |
| --- | --- |
| Monday | 9:00 am - 9:00 pm |
| Tuesday | 9:00 am - 9:00 pm |
| Wednesday | 9:00 am - 9:00 pm |
| Thursday | 9:00 am - 9:00 pm |
| Friday | 9:00 am - 6:00 pm |
| Saturday | 9:00 am - 6:00 pm |
| Sunday | 11:00 am - 5:00 pm |
Service Hours
631.665.1300
| | |
| --- | --- |
| Monday | 7:30 am - 5:00 pm |
| Tuesday | 7:30 am - 5:00 pm |
| Wednesday | 7:30 am - 5:00 pm |
| Thursday | 7:30 am - 5:00 pm |
| Friday | 7:30 am - 5:00 pm |
| Saturday | 7:00 am - 4:00 pm |
| Sunday | Closed |
Parts Hours
631.665.1300
| | |
| --- | --- |
| Monday | 8:00 am - 4:30 pm |
| Tuesday | 8:00 am - 4:30 pm |
| Wednesday | 8:00 am - 4:30 pm |
| Thursday | 8:00 am - 4:30 pm |
| Friday | 8:00 am - 4:30 pm |
| Saturday | 8:00 am - 3:00 pm |
| Sunday | Closed |
Commercial Vehicle Center Hours
631-665-1300
| | |
| --- | --- |
| Monday | 8:45 am - 9:00 pm |
| Tuesday | 8:45 am - 9:00 pm |
| Wednesday | 8:45 am - 9:00 pm |
| Thursday | 8:45 am - 9:00 pm |
| Friday | 8:45 am - 6:00 pm |
| Saturday | 8:45 am - 6:00 pm |
| Sunday | 11:00 am - 5:00 pm |
Testimonials
GOOGLE
July 24, 2017
GOOGLE
July 16, 2017
GOOGLE
July 7, 2017
GOOGLE
June 15, 2017
GOOGLE
June 7, 2017
GOOGLE
May 28, 2017
YELP
May 23, 2017
BING
May 23, 2017
FACEBOOK
May 14, 2017
YELLOWPAGES
May 11, 2017
FACEBOOK
May 11, 2017
YELP
May 10, 2017
Read More