Cooling System Service at Newins Bay Shore Ford in Bay Shore, NY

There are many components underneath the hood that keep your car on the move, which is why you need a service center that you can trust. Here at Newins Bay Shore Ford, we want to be your first choice for all kinds of maintenance needs, including cooling system service. Give us a call at 631-655-1300 to reserve your appointment today!
The cooling system uses liquid, known as the coolant, to keep the engine from overheating. This is especially important during summer months, when high weather temperatures increase the amount of heat circulating around the powertrain. There are several key parts that make up the overall cooling system, including a water pump, fan, and reserve tank, plus an upper and lower hose. If any one of these is damaged or broken, the end result can be severely detrimental to the life of your engine. We recommend that you have this system inspected every two years to detect any potential problems.
When you bring your Ford model to our Service Department for a cooling system service, they'll do a thorough inspection while you relax in our comfortable waiting area. Our mechanics will start with a visual check, moving on to test the radiator pressure, thermostat condition, and engine fan functionality. The liquid coolant level is key, so a system power flush is common, as well as a re-fill with the necessary level for your specific vehicle. Whether you drive a recently purchased SUV, or an older sedan, you can rest assured that it will receive the care and attention it deserves!
With service hours six days a week, including morning and evening appointments, finding a time to visit us is never a hassle. If you prefer to make an appointment online, our intuitive scheduling system is tailored to make the process as simple as possible. For those who are new to our service center, go ahead and enter in your vehicle details and contact information. If you are a returning customer, all you need to do is click 'Find Me' and then provide a few timeslots that are convenient for you. Sometimes you need to get an appointment right away, such as before a road trip. By selecting 'I'm in a Hurry', you'll be able to filter through a list of next available appointments and immediately book one.
Experience optimal performance from your vehicle by scheduling a cooling system service at Newins Bay Shore Ford in Bay Shore, NY! You'll find us here six days a week at 219 West Main Street, just down the road from Forum Diner.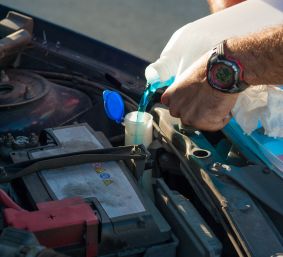 Service Hours
631.665.1300
| | |
| --- | --- |
| Monday | 7:30 am - 5:00 pm |
| Tuesday | 7:30 am - 5:00 pm |
| Wednesday | 7:30 am - 5:00 pm |
| Thursday | 7:30 am - 5:00 pm |
| Friday | 7:30 am - 5:00 pm |
| Saturday | 7:00 am - 4:00 pm |
| Sunday | Closed |
Testimonials
YAHOO
September 12, 2017
GOOGLE
September 11, 2017
GOOGLE
September 6, 2017
GOOGLE
September 4, 2017
GOOGLE
September 2, 2017
CARGURUS
September 1, 2017
GOOGLE
July 24, 2017
GOOGLE
July 16, 2017
GOOGLE
July 7, 2017
GOOGLE
June 15, 2017
GOOGLE
June 7, 2017
GOOGLE
May 28, 2017
Read More