Check Engine Light Diagnostics Available at Newins Bay Shore Ford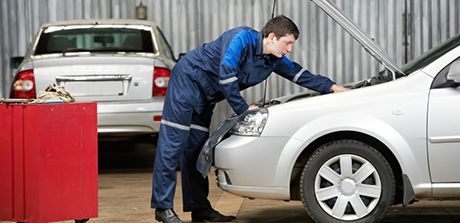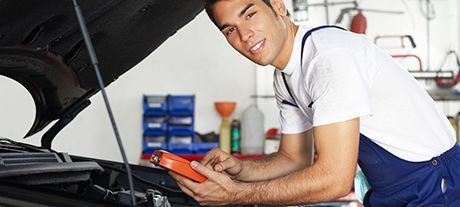 At some point in time everyone experiences the check engine light popping up on their dashboard with the dreaded feeling that it's time to take your vehicle in to be checked out. At Newins Bay Shore Ford we know it can be easy to ignore, but the light plays a large role in warning you of potential problems that need to be tended to. Lucky for you, we have check engine light diagnostics available at Newins Bay Shore Ford to get you back on the road with the utmost confidence!
The check engine light is typically indicative of a problem that is affecting your vehicle's ignition, fuel, or emissions systems. Once that light pops up, come visit us as soon as possible so we can jump on the problem early to avoid further damage. If you delay a car diagnostic, the problems can escalate so it is always good to nip it in the bud and find out what is making your car under-perform. Keep in mind, if the check engine light is blinking it means there is a serious problem that needs to be looked at immediately. If it is solid, it may not be as serious, but it is still important to utilize our check engine light diagnostics available at Newins Bay Shore Ford.
To ensure your vehicle is running at its optimal potential schedule an appointment with us! Our expert technicians will take a clean sweep of your vehicle from front to back. There are several reasons why your check engine light could be illuminating, and that is where we come in! Common problems include, but are not limited to, a failing oxygen sensor, engine vacuum leak, or a problem with your catalytic converter. From the serious to the not-so-serious, the light could also be alerting you simply because of a loose gas cap. We'll be sure to provide a visual inspection of the circuits and a system analysis to properly address the possible issues.
There is no issue, big or small, our team of technicians can't handle. Once we pinpoint the issue we'd be happy to schedule a time most convenient for you to get your car ready to cruise back down Sunrise Highway. Don't be afraid to face the music and bring your car in to Newins Bay Shore Ford when you see that pesky light pop up on your dashboard. We are located at 219 West Main Street, and would be more than happy to help you with our check engine light diagnostics available at Newins Bay Shore Ford!
Sales PPC Hours
888-401-8744
| | |
| --- | --- |
| Monday | 9:00 am - 9:00 pm |
| Tuesday | 9:00 am - 9:00 pm |
| Wednesday | 9:00 am - 9:00 pm |
| Thursday | 9:00 am - 9:00 pm |
| Friday | 9:00 am - 6:00 pm |
| Saturday | 9:00 am - 6:00 pm |
| Sunday | 11:00 am - 5:00 pm |
Sales Hours
631.665.1300
| | |
| --- | --- |
| Monday | 9:00 am - 9:00 pm |
| Tuesday | 9:00 am - 9:00 pm |
| Wednesday | 9:00 am - 9:00 pm |
| Thursday | 9:00 am - 9:00 pm |
| Friday | 9:00 am - 6:00 pm |
| Saturday | 9:00 am - 6:00 pm |
| Sunday | 11:00 am - 5:00 pm |
Service Hours
631.665.1300
| | |
| --- | --- |
| Monday | 7:30 am - 5:00 pm |
| Tuesday | 7:30 am - 5:00 pm |
| Wednesday | 7:30 am - 5:00 pm |
| Thursday | 7:30 am - 5:00 pm |
| Friday | 7:30 am - 5:00 pm |
| Saturday | 7:00 am - 4:00 pm |
| Sunday | Closed |
Parts Hours
631.665.1300
| | |
| --- | --- |
| Monday | 8:00 am - 4:30 pm |
| Tuesday | 8:00 am - 4:30 pm |
| Wednesday | 8:00 am - 4:30 pm |
| Thursday | 8:00 am - 4:30 pm |
| Friday | 8:00 am - 4:30 pm |
| Saturday | 8:00 am - 3:00 pm |
| Sunday | Closed |
Commercial Vehicle Center Hours
631-665-1300
| | |
| --- | --- |
| Monday | 8:45 am - 9:00 pm |
| Tuesday | 8:45 am - 9:00 pm |
| Wednesday | 8:45 am - 9:00 pm |
| Thursday | 8:45 am - 9:00 pm |
| Friday | 8:45 am - 6:00 pm |
| Saturday | 8:45 am - 6:00 pm |
| Sunday | 11:00 am - 5:00 pm |
Testimonials
GOOGLE
July 24, 2017
GOOGLE
July 16, 2017
GOOGLE
July 7, 2017
GOOGLE
June 15, 2017
GOOGLE
June 7, 2017
GOOGLE
May 28, 2017
YELP
May 23, 2017
BING
May 23, 2017
FACEBOOK
May 14, 2017
YELLOWPAGES
May 11, 2017
FACEBOOK
May 11, 2017
YELP
May 10, 2017
Read More